Kefauver's Children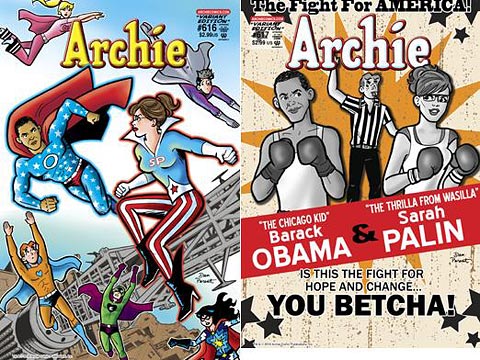 Adrian Morgan, editor of Family Security Matters — a name that spikes the landing on a difficult Triple Axel of clichés — would like you to know that Muslim comic-book superheroes are terrorizing America's Youth:
Are we going to see ass-kicking Christian superhero nuns, called Faith, Hope and Charity, whooping sinner's butts and sending Satan into Hell? It is doubtful. This disparity is one of the worst things affecting society at present. Christianity and Judaism do not get featured in mainstream media, but Islam is not only depicted in all strands of the media, it is being promoted by a president who seems to have forgotten what he swore to uphold when he entered office. If Obama can promote Islam, he should also publicly promote Christianity, Judaism, Buddhism and every other faith. The fact that he does not is a very worrying development in politics.
Well, not nearly as worrying as Archie getting into the act.
In Archie, Obama vs. Palin [Politico]
Add a Comment
Please
log in
to post a comment