Losing Our Religion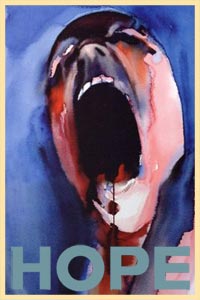 Barack Obama, Wednesday night:
"The single biggest threat to our success is not the other party," the president said at the Roosevelt Hotel. "It's us. It's complacency. It's apathy. It's indifference. It's people feeling like, well, we only got 80 percent of what we want, we didn't get the other 20, so we're just going to sit on our hands. We're not going to go out there. It turns out bringing about change is hard. I thought it was going to be easy. I liked the cute poster of the Obama campaign. I enjoyed the inauguration. It was great when Beyonce and Bono was singing. I didn't know that we were actually going to have to grind it out, that sometimes we'd have setbacks."
Dear Mr. President,
We first became aware of your candidacy about three years ago, when you were a guest on the Daily Show. We were impressed: Impressed with your grasp of the issues, impressed with your seriousness, impressed with your lack of cant. You reminded us of what we like about Bill Clinton's Daily Show appearances, when he's in policy-wonk mode. We're not a Bubba fan, but we really respect that about him.
Nor are we an in-the-trenches politico, so we pretty much ignored the race until the night of the Iowa caucus. That evening, two historic things happened:
You won.
And we gave money to a political campaign.
While historians inexplicably find the details of our life uninteresting, we can assure you that both developments were equally unlikely.
For more than three decades, starting with Watergate, we had been following politics from the same perspective that we follow entertainment-industry news: as an amused observer, never a participant. (Yes, we vote; we also watch movies.) But that night, we saw not change, but chance: a chance that the politics that had blighted our nation since 1980 — all of our adult life, and yours — might finally be coming to an end.
We didn't see that chance with John Edwards, who was all pseudo-populist pandering. Nor did we see that chance with Hillary Clinton, who was all triangulation and carpetbagging. We saw that chance with an inspiring, practical-minded candidate who just happened to be about our age, for the first time in a presidential campaign. We saw an opportunity for a generational shift in politics, away from demagoguery and towards practicality.
(Granted, we would be disabused about the generational fantasy that September, but spring was near, and hope was in the air.)
So, for the first time ever, we had some skin in the game. And since skin was part of the game, we were quite aware that we were playing for high stakes, with no guarantee of success. But that spring, Mr. President, we didn't hear a false note from you. You were quite clear that change requires work, that progress cannot be taken for granted. You said as much, time and again. We liked that about you. We know what it's like being a practical idealist: You can dream, but you still have to pay the rent.
No, the false notes began that summer.
That's when, the nomination secure, you started tacking right. (Offshore drilling? Really?) We understood the politics of it — He Who Owns the Middle, Owns the Election — and while it certainly dampened our enthusiasm (Goodbye, "Unicorn"), it didn't dampen our support. Any candidate we fully agreed with would be manifestly unelectable, after all. There's Left and Right. We're somewhere Above or Below. Or maybe Next Door.
But just so you understand, Mr. President, we weren't mindless about it — and quite honestly, we're somewhat surprised to see you and your minions indulging in caricature directed at your own (current and erstwhile) supporters. Because, to skip ahead a few more months, we frankly didn't enjoy the Inauguration. Something about inviting an outspoken bigot to read a prayer, because Bigots Are Americans, Too.
What were we expecting? Well, Mr. President, we weren't expecting you to sell out healthcare reform before it got started, and then let it twist in the wind for months before stepping up your game. We weren't expecting you to embrace and extend the unconstitutional national-security policies of your predecessor. We weren't expecting you to summarily dismiss investigations into war crimes on the grounds that you have a neck cramp, and can't look that way.
Mr. President, we weren't expecting you to be the setback.
Yes, Mr. President, change is hard. It's harder when your leaders won't lead. It's even harder when they welcome criticism one day, then ridicule those who offer it the next. We may be the people we've been waiting for, but with each passing day, each passing craven decision by you and your party, we're finding it increasingly difficult to count you among us.
Add a Comment
Please
log in
to post a comment