Choo Choo Ch'Boogie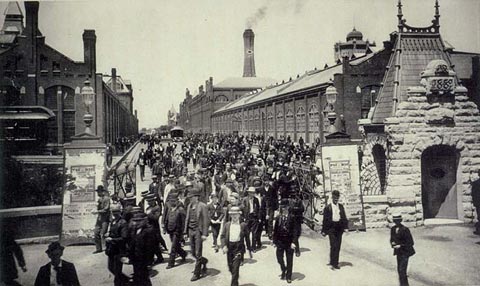 We had intended to write a clever little post about how the U.S. Department of Labor's History of Labor Day page neglects to mention the inspirational role of the Pullman Strike of 1894 in establishing the federal holiday that year.
But we ran into a glitch.
For example, here's how Slate reports it:
In 1894, after President Grover Cleveland ordered the brutal suppression of the Pullman Strike, he realized that he had to do something to curry favor with the labor movement, which viewed him with contempt. Worried that a May 1 holiday would encourage rabble-rousing in commemoration of the Haymarket Riot, he followed the lead of several states and made the first Monday in September a federal holiday in honor of the workingman.
And the PBS NewsHour stakes the same claim:
In the immediate wake of the strike, legislation was rushed unanimously through both houses of Congress, and the bill arrived on President Cleveland's desk just six days after his troops had broken the Pullman strike.
Just one problem with that approach: The dates don't line up.
The strike began on May 11, 1894, in Pullman, Illinois, near Chicago. Pullman was a company town, owned, like the luxury-railcar manufacturer, by George Pullman. When the company cut wages, it conveniently neglected to cut the rent, and the workers headed for the exits. After escalating over the summer — Eugene V. Debs takes a starring role — the strike ended when Cleveland sent in the Army. Two workers were killed by U.S. Marshals.
Which brings us to our glitch: The troops arrived July 3. The strike was over August 2.
But Congress passed the Labor Day act on June 28.
It's fair to say the federal holiday was proclaimed in the midst of the Pullman Strike. With a little more research, we could likely confirm that the holiday was passed because of the strike — perhaps as an attempt at melioration.
But not because Grover Cleveland sent in the troops at the behest of George Pullman.
That hadn't happened yet.
Add a Comment
Please
log in
to post a comment