Here Come the Teabaggers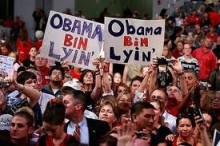 At The Hill, Brent Budowsky has a good piece up on what will happen if the Republican/Teabagger party takes over the House:
The Republican plan is to abuse the power of multiple Congressional committees, abuse the power and the process of subpoena, by hiring a fleet of partisan Republican lawyers and partisan Republican staff at taxpayer expense to pursue a politics of vendetta and persecution.
Remember the abuses of power of Republicans in Congress when they launched bogus attacks on Bill and Hillary Clinton during the Clinton presidency, culminating in a de facto attempted coup d'état through an abuse of process that culminated in an attempt to impeach President Clinton while he was creating jobs and balancing the budget?
Like bluegal says: "What didn't you like, the peace or the prosperity?"
Make no mistake, Republicans plan a vendetta and politics of persecution and abuse of power against President Obama.

Make no mistake, they plan a vendetta and politics of persecution and abuse of power against the White House staff.

Make no mistake, they plan a politics of vendetta, persecution, abuse of power and character assassination that extends to "Democratic allies."

Make no mistake, the party of Richard Nixon and Joe McCarthy is so punch drunk with the lust for power and so dependent on extremist supporters who pursue the politics of hate that the party that is no longer the party of Lincoln is virtually bragging about the abuses power they intend to perform if the given the power to do so.

This is a Republican Party that is dangerously dependent on extremist factions that view
America as a place where opponents are demonized, where even Democratic war heroes have their patriotism attacked by those who never served in the military, and where opponents are not treated as patriotic Americans with differing views but as enemies of the state.
So far, so good, but here's where I beg to differ:
These intended abuses of power that are now being revealed will drive the Democratic base to greater turnout and drive independent voters to Democratic candidates.

These intended abuses of power should and will be one of the major issues as the campaign comes to a close.
No they won't.  The "independent middle" that will need to vote to keep the GOP truly in the minority won't come out.  I don't think the crazies will take the House, but the Republicans will gain enough seats to slow things down or stop them, mostly by screaming and stomping their feet on the teevee.
Left a comment (in moderation now) setting out my usual optimistic view:
Sadly, there will always be that 22-26 percent (the same people who thought Bush was doing a fine job) who can be scared into voting for a Virginia Foxx, a David Vitter, a Louie Gohmert.  And you can't reach them. You can dump a metric ton of facts on a conservative – here's how the GOP is trashing the country, here's how the conservatives are taking your rights away – and they won't hear you.  Give them a few catchphrases – "Death Panels! Socialist! Kenyan usurper! – and they will pull the lever against their own interests every time. This is why this country, and probably our species, is finished.  If we don't get going on climate change, worldwide with the U.S. leading the way, it's over folks. But the GOP will stop sensible reforms even as our farms fail and our citizens bake or drown. Oh well – we had a pretty good run.
Add a Comment
Please
log in
to post a comment