All In Good, Clean, Assassination Fun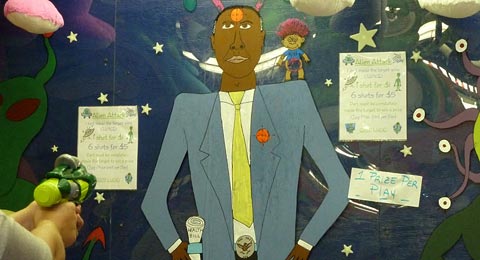 Speaking of miscoded racism, let's take a swig of the real stuff:
In Roseto, Pa., a carnival company closed down a shooter game called "Alien Attack," after complaints and news stories that President Obama was one of the targets.

The black "alien leader" is holding a scroll titled "Health Bill" and wearing a presidential seal belt buckle. He also has antennae and a troll doll with a KISS T-shirt on his shoulder…

"She [a carnival-goer] said she was offended by it. I said if you are, you might want to be. But you're interpreting it as being Obama. We're not interpreting it as Obama," said the owner, Irvin Good Jr.
Why, yes, the Secret Service had a few words with Mr. Good. Why do you ask?
Roseto carnival game message: 'Step right up and shoot' Barack Obama [Lehigh Valley Express-Times]
Add a Comment
Please
log in
to post a comment