The Wedding of the Year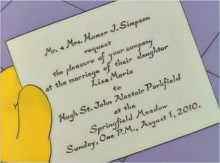 Move over Chelsea, today is Lisa Simpson's wedding day!
While it's not in the Gray Lady's Wedding & Celebrations section (a.k.a. Gay Man's Sports Section), the NYT shares with us the good news that back in a 1995 episode of The Simpsons, her wedding was forecast for August 1, 2010 at 1 pm in Springfield.
No word if Lisa wore one of those strapless bridal dresses that Cynica and I are tired of seeing.
Mazel tov, kids!
Add a Comment
Please
log in
to post a comment