It's a Wonderful Life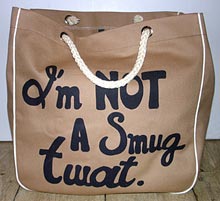 Our guest columnist this morning is The Onion, for reminding us why we haven't been able to listen to NPR for twenty years, even if we did slip in a Duck's Breath gag Monday.
And no, we don't know what makes a three-year-old piece suddenly relevant, but Kottke linked to it, and Kottke's on the Time 100 list of Blogs That Aren't Stinque, so he must be doing something right.
CHICAGO—Producers of the long-running Chicago Public Radio program This American Life announced Monday that they have completed their comprehensive 12-year survey of life as a modern upper-middle-class American.
In what cultural anthropologists are calling a "colossal achievement" in the study of white-collar professionals, the popular radio show has successfully isolated all 7,442 known characteristics of college graduates who earn between $62,500 and $125,000 per year and feel strongly that something should be done about global warming.
"We've done it," said senior producer Julie Snyder, who was personally interviewed for a 2003 This American Life episode, "Going Eclectic," in which she described what it's like to be a bilingual member of the ACLU trained in kite-making by a Japanese stepfather. "There is not a single existential crisis or self-congratulatory epiphany that has been or could be experienced by a left-leaning agnostic that we have not exhaustively documented and grouped by theme."
Added Snyder, "We here at public radio couldn't be more pleased with ourselves."
Smug Twat bag [from marissa v., sold out]
Add a Comment
Please
log in
to post a comment