Popping Washington's Cherry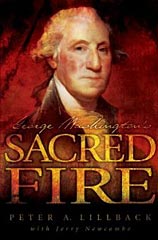 Title: "George Washington's Sacred Fire"
Author: Peter A. Lillback, President of the Westminster Theological Seminary
Rank: 1
Blurb: "Dr. Lillback paints a picture of a man, who, faced with unprecedented challenges and circumstances, ultimately drew upon his persistent qualities of character — honesty, justice, equity, perseverence, piety, forgiveness, humility, and servant leadership, to become one of the most revered figures in world history."
Review: Buckle up…
Finally, conclusive proof of Washington's love for Jesus

I've wasted what must be by now years of my life arguing with friends and enemies alike. Among the many subjects broached, politics, religion and sewing have been the most prominent and profound. (In 1993 an argument over the ethical use of sewing machines ended my first marriage. My wife at the time, a lazy and deeply disturbed woman of 29 years, insisted upon using a machine to stitch her homemade dresses which I demanded she wear at all times. It made it easier, she said, and faster. I lamented her decision to abandon the ways of her forebears, substituting dull mechanized efficiency for everything good and true in the human race. Today she lives in New Jersey, a punishment to fit the crime if ever there was one.) I've faced no argument more frequently than that put forth by the rabid anti-theists, Satan worshipers and "Wiccans," really just a fancy word for nature-loving hippies, all of whom state that His Excellency George Washington was an atheist, or at least a deist. Not so, and now I can prove it beyond a doubt by citing this fine book.

Dr. Lillback makes extensive use of the Washington Scrolls discovered beneath the Intihuatana stone at Machu Picchu in 2003, supposedly written by a slave-comedian of Washington's named Gershom. The Scrolls are punctuated with "King-Joaks," but also provide ample evidence, including direct quotations, of Washington's deep Christianity. He was what today we'd label a "fundamentalist Christian" but this label misses the point: Washington was a man who believed, rightly I think, that America was founded to be a Christian nation, indeed an empire of Christianity, and that we ought to have prayer before school, in school, and after school, and that Jeffersonian Jacobins, or liberals as it were, have no place in a decent Christian Republic. In this way I see Washington's modern heir and chief spokesman as Glenn Beck. Indeed, to understand this one must merely watch Beck's television show to see the large red white and blue poster displaying Washington's magnanimous countenance, under which is the word FAITH printed large. Beck realizes the dangers of secular discourse in the late Republic, just as Washington alerted the citizenry to the vices of secularism in the early Republic, those days of mass prayer and cider mills long past.

It's clear to me that Dr. Lillback has been watching Glenn Beck and has, perhaps, even learned something from the great man. George Washington's Sacred Fire is a book all American schoolchildren should be forced to read after 8:00 Bible hour.
Customers Also Bought: "To Save America: Stopping Obama's Secular-Socialist Machine," by Newt Gingrich
Footnote: Peter Lillback to Glenn Beck, May 18:
Nowhere in the Bible does it say that the state owns property or that the church owns property…

Peter believed in individual property rights. Why? Because the Ten Commandments, which you remember you said children aren't allowed to read them any more in our schools. Our Supreme Court says they're too dangerous. Well, they're dangerous for socialistic government.

You know why? Because the Eighth Commandment says, "Thou shall not steal." That means you have a right to your property. God says you own it. And if you put it in its positive form, "Thou shall not steal" means you are to preserve your property and the property of your neighbor.
Also, the positive form of "Thou shall have no other gods before me" means Lillback must be cool with the Flying Spaghetti Monster, as long as it doesn't cut in line.
Buy or Die [Stinque@Amazon kickback link]
Add a Comment
Please
log in
to post a comment