Can't Sleep… Clown Will Eat Me…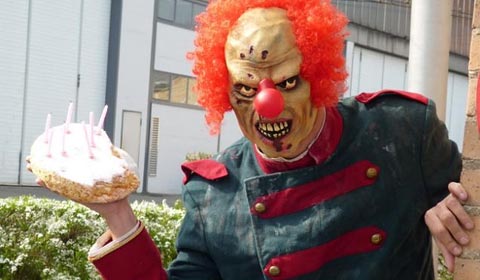 Our fact-checking for the following consists of desperately wanting it to be true:
Dominic Deville stalks young victims for a week, sending chilling texts, making prank phone calls and setting traps in letterboxes.

He posts notes warning children they are being watched, telling them they will be attacked.

But Deville is not an escaped lunatic or some demonic monster.

He is a birthday treat, hired by mum and dad, and the 'attack' involves being splatted in the face with a cake.

'The child feels more and more that it is being pursued,' said Deville.
Feels?
Oh, but "most kids absolutely love being scared senseless," Deville explains, leaving us to wonder whether that last word was edited for publication. To the point, that kind of fright usually involves crossing some threshold, typically in the form of a ticket booth. Once inside, you know it's just a bunch of Christian teens being lame.
Still, far be it from us to challenge Deville's presumptions. After all, he had us at Evil Stalker Clown.
Add a Comment
Please
log in
to post a comment