The Stupid … It Burns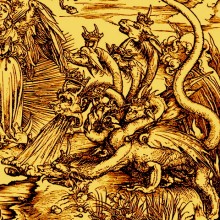 Every time I think it can't get any worse:
NEW YORK – On the heels of health care, a new Harris poll reveals Republican attitudes about Obama: Two-thirds think he's a socialist, 57 percent a Muslim—and 24 percent say "he may be the Antichrist."

To anyone who thinks the end of the health-care vote means a return to civility, wake up.
MSNBC interviewee just said Limbaugh today said that Stupak was Neville Chamberlain to Obama's Hitler.  That sure helps.
Obama Derangement Syndrome—pathological hatred of the president posing as patriotism—has infected the Republican Party. Here's new data to prove it:

67 percent of Republicans (and 40 percent of Americans overall) believe that Obama is a socialist.

The belief that Obama is a "domestic enemy" is widely held—a sign of trouble yet to come.
How long until the shooting starts?  As Boehner, McConnell, Limbaugh Pence, and the other agents of intolerance whip their orc followers into a frenzy over HCR, the time will come when some of them become unhinged and violent. It's only a matter of time.
Add a Comment
Please
log in
to post a comment