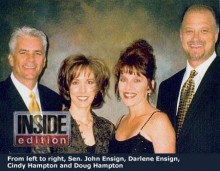 Somebody is in deep doodoo:
LAS VEGAS — Nevada Senator John Ensign is in the crosshairs of a Department of Justice criminal investigation.

The criminal probe stems from a romantic affair Ensign had with the wife of his key staffer and close friend, Doug Hampton, and what Ensign has done to help Hampton financially.

Subpoenas have been issued to at least six las vegas businesses. The Justice Department came to Las Vegas to interview several prominent business and political figures in what appears to be a wide-ranging and deadly-serious criminal probe.
GOP – grand old pestorkers.
The subpoenas sought any and all records; including emails, phone calls and calendars regarding any interaction the Las Vegas businesses may have had with Ensign, his Chief of Staff John Lopez, Doug Hampton, Hampton's wife Cindy — the object of the senator's romantic interest — Ensign's principal political advisor Mike Slanker, and Slanker's company November Inc. Slanker and wife Lindsay were hired by Ensign to run the fundraising effort for the National Republican Senatorial Committee.

After Ensign's affair with Hampton's wife became known, Ensign urged the Slankers to hire Hampton at November Inc. Hampton was later hired by two Nevada companies with known ties to Ensign, but the trail of subpoenas makes it clear the Justice Department wants to know if other Las Vegas businesses had their arms twisted to give work to Hampton, or whether they were pressured by Ensign or his senate staffers, and what the businesses expected in return.

According to multiple sources familiar with the grand jury subpoenas, investigators do not believe any of the Nevada companies did anything illegal. Their interest is focused on Ensign, Hampton, and others who may have assisted in trying to steer income Hampton's way.
Will he resign?  Will he bother even running in 2010, when he's up?  Stay tuned.
Add a Comment
Please
log in
to post a comment