Just Between Us Fascist Youth Programs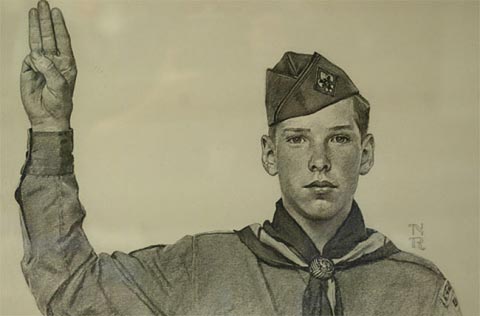 We could wrap up Afterparty Monday with a clip from Inglourious Basterds, but that would be too easy:
Lord Baden Powell, the founder of the Scout movement, was invited to meet Hitler after having tea with senior Nazis, files released by MI5 show.

Intercepted letters show that the Germans were seeking to expand the influence of the Nazi Youth movement in Britain in the late 1930s.

Baden Powell met the German Ambassador, Joachim von Ribbentrop, who went on to become Hitler's Foreign Minister, in London in November 1937.

While most of those who came into contact with Ribbentrop found him extremely difficult to deal with, Baden Powell reported that he "seemed very much in earnest and was a charming man to talk to."
Well, we all know now about charming Nazis. Although milord seemed a tad eager about it:
Baden Powell went on to become increasingly sympathetic to Hitler, writing in his diary of 1939: "Lay up all day. Read Mein Kampf. A wonderful book, with good ideas on education, health, propaganda, organisation etc."
Really, that has to be the most ominous etc. in world literature.
Add a Comment
Please
log in
to post a comment