Surf Nazis Say Moderates Must Die!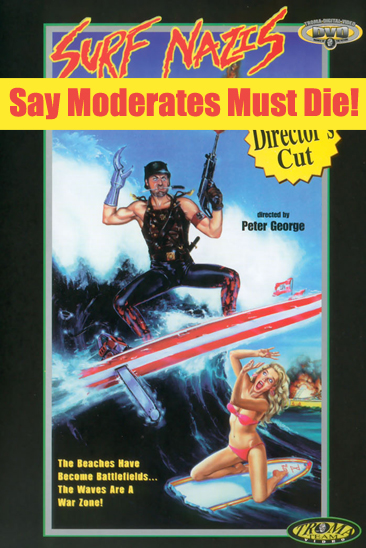 HONOLULU — The Republican National Committee, howling ecstatic sieg heils into the waves in this tropical paradise, vowed to deny campaign aid any GOP candidate who cannot dictate Mein Kampf by heart in the original German, with a Bavarian inflection and a teeny tiny moustache while goosestepping rigorously around the Holiday Inn where they are staying.
The RNC had been preparing a more demanding, totalist purity test for GOP candidates to receive party funding but chose this alternative because there are a limited number of sieg heiling nutbags who would put up with that kind of Lord-of-the-Flies abuse who aren't in straightjackets somewhere on a Thorazine drip. Worse, the GOP hero of the hour, Sen.-elect Scott Brown of Massachusetts, would have failed the test for abortion (amiguous position), and health care reform (voted for Romneycare).
RNC Chairman Michael Steele said, "We decided against an out and out purity test that would have required DNA samples, a sworn blood oath to the party, a sworn oath to Jesus, the amputation of a finger, 1000 bicep noogies and an ass-raping performed by Karl Rove in an Nazi SS uniform, in favor of this 'plaform test' which speaks to larger principles than requiring an explicit oath of total and unyielding fealty to the party and to specific planks. We're flexible like that."
Add a Comment
Please
log in
to post a comment