Another Conservative Tantrum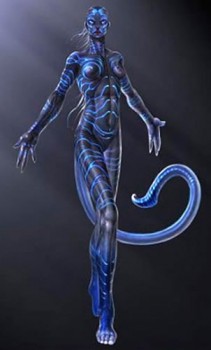 I haven't seen Avatar, but if J-Pod hates it, I'm definitely going to:
John Podhoretz, the Weekly Standard's film critic, called the film "blitheringly stupid; indeed, it's among the dumbest movies I've ever seen." He goes on to say: "You're going to hear a lot over the next couple of weeks about the movie's politics — about how it's a Green epic about despoiling the environment, and an attack on the war in Iraq. . . . The conclusion does ask the audience to root for the defeat of American soldiers at the hands of an insurgency. So it is a deep expression of anti-Americanism — kind of. The thing is, one would be giving Jim Cameron too much credit to take 'Avatar' — with its . . . hatred of the military and American institutions and the notion that to be human is just way uncool — at all seriously as a political document. It's more interesting as an example of how deeply rooted these standard issue counterculture cliches in Hollywood have become by now."
And if J-Pod brings the stupid, you can count on Ross Douchebag to bring the stupid with sprinkles:
Ross Douthat, writing in the New York Times, took Cameron to task on another favorite conservative front, as yet another Hollywood filmmaker who refuses to acknowledge the power of religion. Douthat calls "Avatar" the "Gospel according to James. But not the Christian Gospel. Instead, 'Avatar' is Cameron's long apologia for pantheism — a faith that equates God with Nature, and calls humanity into religious communion with the natural world." Douthat contends that societies close to nature, like the Na'vi in "Avatar," aren't shining Edens at all — "they're places where existence tends to be nasty, brutish and short."…
Did it ever occur to Ross that equating god with nature might result in a world that isn't on the edge of disaster?
Just another day in the conservative echo chamber.
Add a Comment
Please
log in
to post a comment