Guess Who's A Stinkin' Red Commie?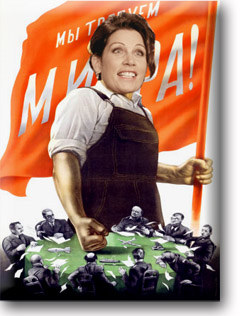 Guess who loves Joseph Stalin more than she loves Jesus? That's right, the website Truthdig has revealed that, even as she rails against government spending on social programs, GOP wundernut Muchelle Bachmann has been pulling in a pretty penny from U.S. Government agricultural subsidies:
According to the [Environmental Working Group] records, Bachmann's family farm received $251,973 in federal subsidies between 1995 and 2006. The farm had been managed by Bachmann's recently deceased father-in-law and took in roughly $20,000 in 2006 and $28,000 in 2005, with the bulk of the subsidies going to dairy and corn.
That's right: government redistribution of wealth is good for me, bad for thee. You start wondering whether hypocrisy is a requirement for membership in the GOP, or if it just develops naturally after years of pissing on working class families while telling them it's raining.
(Via Crooks and Liars)
Add a Comment
Please
log in
to post a comment