Dr. Palin: Charged Particles Responsible for Climate Change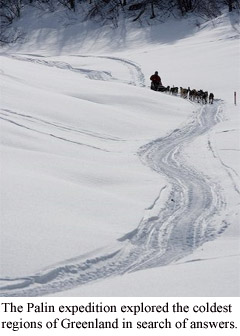 Esteemed climate scientist Dr. Sarah Palin released the findings today from a dangerous expedition she recently led to gather ice core data from the polar caps of Greenland. Aided by her husband, the renowned adventurer and explorer Todd Palin, who led the dog sled team that carried the Palins, their equipment, and a contingent of Tea Party Activists to the edge of the arctic caps, Palin spent three weeks gathering spectroscopic readings, drilling and analyzing ice cores for trapped C02 and taking precise temperature measurements and ice thickness readings. The results, which will no doubt shock the scientific world and will be published shortly in the esteemed scientific journal Twitter, blame charged particles, or ions, for the recent rise in global temperatures. Palin's upcoming scientific paper is reproduced, in its entirety, below:
Earth saw clmate chnge4 ions;will cont 2 c chnges.R duty2responsbly devlop resorces4humankind/not pollute&destroy;but cant alter naturl chng
A world conference of climate experts is expected to be called to discuss the explosive new findings sometime in the coming weeks.
Add a Comment
Please
log in
to post a comment