And Your Little Dog, Too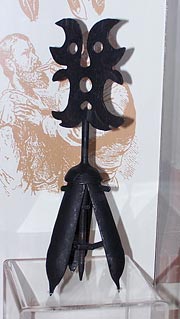 We have no shortage of anal pears to bestow upon Joe Lieberman, and the past couple of days we've been more than happy to give their cranks a few extra twists. But mere satiric vitriol isn't enough for Jane Hamsher at Firedoglake:
Donations to find a cure for cancer should not be used to pay the salary of former insurance and drug lobbyist Hadassah Lieberman, wife of Senator Joe Lieberman (I-CT), who is pledging to kill health care reform while millions go untreated.
Hamsher, a three-time breast cancer survivor, lays out a complicated case against Susan B. Komen Foundation spokesperson Hadassah Lieberman: that she "has worked for the insurance-pharmaceutical-lobbying complex"; that "she has used her association with her husband the Senator" to score cushy consulting gigs; that "the death of health care reform will no doubt please the clients of Hadassah Lieberman's lobbying firms"; that "the drugs that are developed by the Komen money are being put out of the financial reach of average middle class women by Hadassah Lieberman's lobbying firms"; that "the Komen Foundation focuses its resources on developing treatments that increase the profitability of pharmaceutical companies like the ones that employ Mrs. Lieberman rather than prevention".
These are substantial charges, the merits of which we won't judge here. But if Hamsher has a case, it should be pursued on its own terms.
Unfortunately, Hamsher presents it as payback for Joe Lieberman's recalcitrance on healthcare reform. Which strikes us as profoundly petty.
Jane, please: If you think you have Hadassah nailed, by all means go for it. But keep Droopy out of it. We enjoy wingnut histrionics about the Thuggish Left a lot more when they don't have a grain of truth.
Add a Comment
Please
log in
to post a comment