All in Good Resentful, Spittle-Choking, Kick the Dog, Venom-Spewing Fun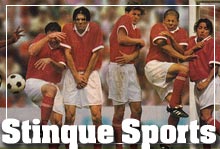 If you follow Sport as closely as we don't, you'll appreciate the significance of the following:
In another gesture to welcome Minnesota quarterback Brett Favre, Green Bay city officials sported flip-flop sandals at work Friday.

The new fashion statements are aimed at poking fun at Brett's decision-making about his retirement retirements career.

"I think it's a fun idea. I think that Brett would probably actually be proud that we chose to have this kind of fun without going in to a negative, of a way," Andre Jacque in the mayor's office said.
That's all well and good, but how many computers in the Green Bay mayor's office have visited Burn Brett Favre?
Add a Comment
Please
log in
to post a comment