The Fightin' Dittoheads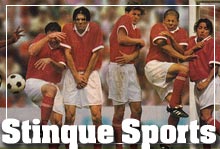 In addition to getting paid for attending an upscale titty bar, America's Hatemonger Rush Limbaugh was also in the news last week as part of a bid to purchase the St. Louis (when'd that happen?) Rams.
We don't see a problem with that — George Will's "violence punctuated by committee meetings" could be stretched to describe Rush's show as well as professional football — but apparently some athletes who are happy to play for asshole owners draw the line at asshole racist owners:
Limbaugh's controversial comments are well-known. He resigned from ESPN in 2003 after he said the media were "very desirous that a black quarterback do well" in reference to Philadelphia's Donovan McNabb being overrated. "If he's rewarded to buy them, congratulations to him," McNabb said during his weekly press conference. "But I won't be in St. Louis anytime soon."

[The Jets' Bart] Scott says players remember what Limbaugh said, and adds that the NFL would be wise not to allow the nationally syndicated host into the league. "It's an oxymoron that he criticized Donovan McNabb," Scott said. "A lot of us took it as more of a racial-type thing. I can only imagine how his players would feel. I know I wouldn't want to play for him. He's a jerk. He's an —."
What kind of —? In addition to the famous McNabb slam, Rush has also said that "the NFL all too often looks like a game between the Bloods and the Crips without any weapons." Which, in retrospect, sounds like jealousy instead of criticism: Hillbilly Heroin is so minor league.
Add a Comment
Please
log in
to post a comment