Kokesh Reveals His Assets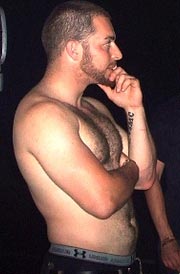 Continuing Stinque Hump Day, we're obligated to note that Hunky Antiwar Paultard Adam Kokesh has raised more than $100,000 in his bid to unseat incumbent Congressman Ben Ray Luján.
Problem is, Luján has raised $400,000.
But that hasn't stopped the Kokesh campaign from proudly claiming it "KO'S FUNDRAISING GOALS" in one of the frequent emails they send us, proving that Objectivism isn't above Boosterism. Nor is it above Elmer Fuddism, as today's missive invites us to join the campaign's "TWOWN HALL" on Twitter.
Hope spwings etewnal, however, and Kokesh pledges to continue holding "yard sales, car washes and bake sales" to raise money. Which is all well and good, but if Kokesh is serious about catching up to Luján, we would suggest Jockey-clad lectures on the evils of the Fed while swooning supporters stuff dollars down his moneybomb.
Add a Comment
Please
log in
to post a comment