The Taste of a New Degeneration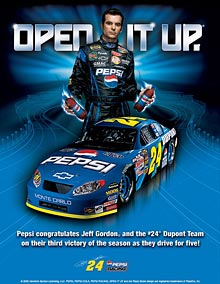 On a day when Glenn Beck has lost another 19 advertisers, a leading dispenser of high-fructose corn syrup is under attack from the other direction for being too fabulous:
A group that advocates "traditional family values" claims it has the signatures of 500,000 people who have pledged to boycott Pepsi over what is says are the company's activities promoting gay rights.

The American Family Association, which boasts "2.5 million online supporters," "asked PepsiCo to be neutral in the culture war and not support the homosexual agenda," it said in a press release Tuesday. "PepsiCo refused. The company continues to give financial support to homosexual organizations."
That would presumably include $500,000 to the Human Rights Campaign — but not Pepsi's totally gay NASCAR sponsorship. You know what they say during pit stops: So much lube, so little time.
Add a Comment
Please
log in
to post a comment