Die, You Gravy-Sucking Pigs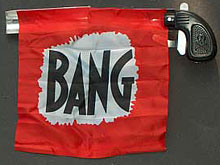 So, who's calling for a presidential assassination today?
After an audience member shouted a question about "Obama tags" during a discussion on wolves, [Idaho Republican gubernatorial candidate Rex] Rammell responded, "The Obama tags? We'd buy some of those."

Rammell, a veterinarian and former elk rancher from Idaho Falls, said his comment was a joke and he would never seriously talk about President Obama that way, although he doesn't support anything Obama's done as president.

"I was just being sarcastic. That was just a joke," Rammell said. "I would never support him being assassinated."
On the one hand, we've been making JFK jokes pretty much all our life. On the other hand, our usual audience doesn't include idiots toting assault rifles.
Add a Comment
Please
log in
to post a comment