Nearer My Assassin to Thee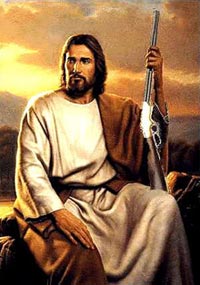 We haven't been following all the twists, but that dude who packed an assault rifle to Barry's Phoenix healthcare rally? His pastor had given a Very Special Sermon about Obama the day before:
You're going to tell me that I'm supposed to pray for the socialist devil, murderer, infanticide, who wants to see young children and he wants to see babies killed through abortion and partial-birth abortion and all these different things — you're gonna tell me I'm supposed to pray for God to give him a good lunch tomorrow while he's in Phoenix, Arizona?

Nope. I'm not gonna pray for his good. I'm going to pray that he dies and goes to hell.
Well, the Lord heard his prayer, and sent the Secret Service to offer communion.
Add a Comment
Please
log in
to post a comment