Kentucky Now to be Even More Hellish Than Before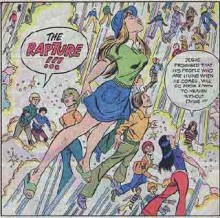 Well, one judge just bought himself a ticket to hell, and is bringing the rest of the state down with him.
A judge on Wednesday struck down a 2006 state law that required the Kentucky Office of Homeland Security to stress 'dependence on Almighty God as being vital to the security of the commonwealth.'
On the upside, this will increase accountability by ending the longstanding Kentucky practice of blaming God for bureaucratic incompetency:
Homeland Security officials have been required for three years to credit 'Almighty God' in their official reports.
Conservatives in the state will no longer be able to blame God for Kentucky's terrorist attacks, national disasters, and general shithole nature. However, there is currently no law against blaming the Jews, blacks, gays, Muslims, or liberals.
State Rep. and general God-lover Tom Riner, who snuck the Almighty God stuff into the original legislation is, of course, not happy, and claims:
The decision would have shocked and disappointed Thomas Jefferson, who penned the words that the General Assembly paraphrased in this legislation.
That paraphrase must have been quite loose, since Jefferson also supported "building a wall of separation between Church & State."
Add a Comment
Please
log in
to post a comment