Cindy Sheehan Vacations with the Presidents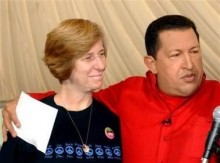 Remember Cindy Sheehan?  She was Joe the Plumber before Joe the Plumber, way back in 2005, when it was kind of a novelty for some unschooled nobody to get national attention by following the president around acting like a douche.
Anyway, she's going to Martha's Vineyard, for the beaches, and the publicity.  According to Sheehan, "We need to give the president the moral backbone he needs"  Well, I'm sure that sending a stalkery attention whore after him and his vacationing family will do the trick.  Of course, since it's slow news August, this will likely corner the media market for the "unhinged asshole" story of the week.  Joe Plumber, New Hampshire Gun Nut Guy, Arizona Assault Rifle Guy, and Sarah Palin will be very envious.  But, to be safe, Sheehan should probably come armed with an IED, just to ensure she gets on the TV. Since the most visible nutcases are right wingers these days, she's going to have to do something to appeal to that sentiment. As the Washington Examiner points out, "even the left wing of the Democratic party seems unconcerned with the wars in Iraq and Afghanistan these days." Yes, let's talk about birth certificates, Nazi Islamosocialist health care Death Tribunals, and assault rifles instead.
Add a Comment
Please
log in
to post a comment