Paultards Got Guns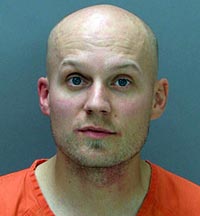 Oh my:
BOISE, Idaho — An Idaho Republican Party leader who helped oust the state GOP chairman in 2008 faces charges of aggravated assault with a deadly weapon after an altercation escalated while he photographed a home with a delinquent mortgage.

Challis McAffee, 33, the GOP chairman from the Boise suburb of Garden City and one of 231 voting members of the Idaho Republican Central Committee, was arrested after being accused of pointing a gun at the homeowner. He was released from Ada County jail on Thursday after family members and friends posted a portion of the $50,000 bond.
And get this – he's a Paultard and a Teabagger. Yahtzee!
McAffee, a backer of libertarian-leaning former GOP presidential candidate Ron Paul and an activist in this year's anti-big-government "Tea Party" protests, helped organize Paul backers who aligned at last June's Idaho State Republican Convention in Sandpoint with other foes of then-state GOP Chairman Kirk Sullivan. Sullivan was voted from office in favor of Norm Semanko.
It's killing me – I can't find this guy's picture.
According to police in the Boise suburb of Meridian, resident Robert Lutes called officers just before 5:30 p.m. Tuesday to report McAffee had pointed a .357 Magnum handgun at him during a verbal confrontation. McAffee acknowledged he pointed the gun at Lutes, according to the police account.

"I'm unarmed, I'm an old man," Lutes, 51, told The Associated Press on Thursday. "I'm trying to find out why he's taking pictures of my house. I said, 'Knock on my door, let me know what you want.' Then, I think he's reaching for his business card and he pulls out a concealed weapon and I think he's going to blow my head off."

Lutes said the gun was beneath a cloth on the floor of the passenger side of McAffee's vehicle.

The Idaho Republican Party said the arrest of one of its southwestern Idaho leaders was a "personal matter."

"It's not a party matter," said Jonathan Parker, state GOP director in Boise.

McAffee didn't return a phone call seeking comment Thursday evening.
Why should he? He's a Republican.
But Ryan Davidson, another Paul supporter who has gained attention by pushing pro-marijuana voter initiatives in the central Idaho town of Hailey, said McAffee told him a different version of the altercation in a phone call from jail:

Lutes confronted McAffee, becoming increasingly hostile, Davidson said. When Lutes struck McAffee's Ford Escort with his hand, McAffee brandished the weapon to de-escalate the conflict, Davidson said.

"Challis is one of the most mild-mannered, good-natured guys," Davidson said. "The conversation wasn't going anywhere, the guy smacked the car window. At that point, he (McAffee) felt threatened enough, he picked up the firearm in front of the seat that he carries for protection. The nature of the job is, you're going to run into some unhappy people."
Challis? What the fuck kind of name is that?
I'm gonna keep an eye on this one.
Add a Comment
Please
log in
to post a comment