Sanford's Poon Tango One of Vast Harem to Sate Priapismic Governor's Raging Carnal Hunger for Illicit Pestorking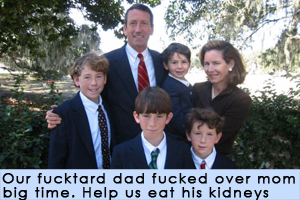 Poontang-crazed family-values GOP icon and South Carolina Governor Mark Sanford has been on a pestorking rampage for who knows how long, trashing his wife and kids like the wanton, diabolical Republican reptile he is, no doubt regaling his harem with stories about his wife's sexual incompetence and praising their expert service in satisfying his most savage, monstrous GOP lusts.
The only reason that Sanford even did his confessional freakout is because The State newspaper editor called his bestest buddy and former chief of staff Tom Davis and told him, hey, we got the dope on the Argentinean poon tango and the phones are ringing off the hook here with tales of a lawless, relentless pestork-o-rama from women from all over – three and counting.
Meanwhile, women all over South Carolina are leaping from the weeds to deny that they were pestorking the priapismic governor or that they had had ever pestorked him. Among them were a former staffer and a lithe, taut dance professor from the local university
The former staffer, Clare Morris, now working in PR, told the FITNews blog that, "To tell you the truth, I don't even like him that much" which is all but a blunt admission that she had been hate-fucking the globe-trotting family values satyr. Hate fucking? Can it get kinkier?
Yes, not surprisingly. Gov. Fuckface's spiritual advisor, Warren "Cubby" Culbertson, all but admitted he and Sanford had taken Sanford's poon tango, the hip-shattering Argentinean fuck beast cougar Maria Belen Chapur, in a family values GOP three-way. Check out this encoded confession from a recent AP story:
When asked if he had met Maria, Culbertson paused, then looked up, an embarrassed smile creasing his face.

"I'm not going to comment," he said.
Right, because if he did, he'd have to get into the details of resolving a sweaty, adulterous three-way with christian doctrine and that might even make his own head asplode <TM rptrcub>.
The insane, womanizing fascist twit revealed where his mistress, Culbertson and he enjoyed savage, wanton GOP group sex in a revealing, if demented interview with the AP today:
Sanford also admitted he saw Chapur more times than previously disclosed, including what was to be a farewell meeting in New York chaperoned by a spiritual adviser soon after his wife found out about the affair.
Add a Comment
Please
log in
to post a comment