Darkness Falls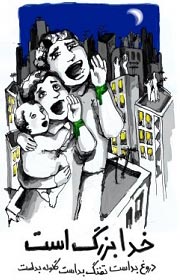 So we're telling the neighbor Thursday night that the only official without popular legitimacy in Iran is Ahmadinejad: He did not win the election, he has no right to continue as president. Everyone else, including Supreme Puppetmaster Khamenei, still has legal authority to sit in their comfy chairs.
Which suggested a solution: Throw Ahmadinejad under the bus. Expose an anti-revolutionary cabal at the Interior ministry that rigged the election, fire the scoundrels, discover the "real" vote count that shows Mousavi the winner, everyone goes home happy. You still have the Guardian Council to veto everything Mousavi or the parliament does, after all. And that "divine blessing"? Dropped cell connection with God. He called back to clarify.
All nice and tidy. And then Khamenei spoiled everything at Friday prayers.
The moment this is posted Saturday morning, we'll be asleep on the West Coast, and Iran will be a half-hour away from what could be a very dangerous showdown. Khamenei started with magnaminous words celebrating the Iranian election process — but then quickly shifted gears, saying that process ended at the ballot box. Complying with post-election protests for a candidate would be tantamount to tyranny, and any blood will be on the protest leaders' hands.
Our favorite part: It's impossible to fake the election results, because rigging an election is against the law. Besides, any miscounting couldn't possibly account for a 10-million vote difference between the candidates.
It was a Big Lie, and it was a whopper.
That Khamenei has the firepower to suppress the protests, through the Revolutionary Guard and the Basij, nobody doubts. But the moment those orders are given — and carried out — civil war begins. And if Iran descends into chaos, there are plenty of interested folks around its borders who would love to take advantage of the situation.
We've been hoping Khamenei is shrewd enough to understand that — that in fact he's been keeping his powder dry in fear of just such consequences. But his threat Friday was clear, and he just may be stupid enough to act on it.
Continuing Coverage:
The Lede [NYT]
Nico Pitney [HuffPo]
niacINsight [National Iranian American Council]
Tehran Bureau [Independent Iran news]
Image: "God is great. Lies are evil. Guns are evil. Bullets are evil." [Golrokh, via niacINsight]
Add a Comment
Please
log in
to post a comment