The Players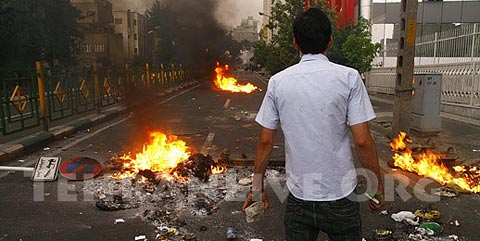 Iranians
65 million, roughly two-thirds under 30 years old — too young for the Revolution, too young to even remember the Iran-Iraq war. And while we tend to view Iran as a Shia nation in a region of Sunnis, locally they view themselves as Persians (51 percent), Azeris (24 percent, including Mousavi), and a half-dozen other ethnic groups, including Kurds (7 percent). But the nation can also be sliced into urban/rural groups, rich/poor, and other politically familiar divisions. All politics is local — until you rattle nukes at them.
Telecommunication Company of Iran
State-owned, controls Iranian communications. Cut off mobile texting Friday and blocked Facebook access — two prominent sources of information and organization for Mousavi's campaign. When supporters switched to Twitter on Saturday, that was blocked too, as was Skype, YouTube and Flickr. Internet speeds in general are being severely throttled, making it difficult to check email, much less post photos or video. Satellite TV reception is also being jammed.
Mahmoud Ahmadinejad
Antisemitic pipsqueak. Despite his neocon-baiting rhetoric, holds no foreign-policy or military power. On the other hand, he's quite capable of throwing the domestic economy into the shitter.
Mir Hossein Mousavi
One of four government-approved candidates for president. Prime Minister during Iran-Iraq war. Not previously known as a "reformer," but his campaign attracted many supporters frustrated with conditions in Iran and its leadership. Apparently now under house arrest, although the government denies it.
Ayatollah Khamenei
Supreme Leader. Controls the military, dictates foreign policy. Rushed to declare Ahmadinejad the winner, despite a legal three-day waiting period.
Ayatollah Rafsanjani
Head of the Expediency Council (apparently now resigned) and Assembly of Experts — the latter of which would choose Ayatollah Khamenei's successor as Supreme Leader, and may have the authority to remove him now. A key player over the next few days.
Guardian Council
The practical power in Iran. Twelve members, six appointed by the Supreme Leader and six nominated by the judiciary and approved by parliament. Holds veto power over parliament. Can bar any candidate for parliament, the presidency, or the Assembly of Experts. Formal authority includes certifying elections.
Revolutionary Guard
The Enforcers. Warned last week against a "velvet revolution" among Mousavi's supporters. May control up to a third of Iran's economy. Oversees the Basij, a volunteer paramilitary group that's been active in suppressing street protests. May have brought in Ansar Hezbollah, a vigilante group loyal to Khamenei, for targeted jackbooting. Suspicions that the weekend's events amount to a "military coup" are directed at them.
Ministry of Interior
Counted the votes. Or didn't, depending on whom you talk to.
Continuing Coverage:
niacINsight [National Iranian American Council]
Tehran Bureau [Independent Iran news]
The Lede [NYT]
Photo: TehranLive
Add a Comment
Please
log in
to post a comment