Meet America's Newest Loser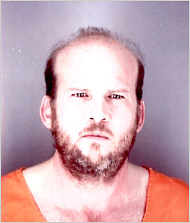 Thanks to reporting by  the New York Times, details have begun to emerge about the life and background of Scott Roeder, the Kansas man who murdered Dr. George R. Tiller last Sunday, as he ushered congregants at the Lutheran church where he was a member. What we know about Tiller's murderer so far, is predictably depressing… or depressingly predictable, depending on how you want to view it.
It will probably come as no surprise to Stinquers to learn that Roeder was an enthusiast of kooky right-wing causes that went well beyond the question of abortion:
Years earlier, Mr. Roeder belonged to a Kansas group known as the Patriot Movement, a citizens' militia which, according to a fellow member, Morris Wilson, 70, aimed to "kick Uncle Sam in the shins" by bucking rules like mounting license plates on cars. "He didn't like taxation and over-regulation…"
He also appears to have been a member of (or had some association with) the radical Montana Freemen, an organization that gained some notoriety in the 1990's for passing millions of dollars in forged checks that they claimed were backed by a fictional "fractional reserve currency."
And Roeder's financial situation seems to fit a familiar pattern, too. If there's one common thread that tends to unite these violent, conspiracy minded nutcases, its a record of financial failure and an inability to keep a steady job:
In Overland Park, Ms. Roeder, a teacher, said Mr. Roeder had seemed ambivalent on matters of abortion, politics and religion when they first met and married in 1986. He had worked in a manufacturing job at an envelope company, she said, until he seemed unable to pay the bills.
…

"The man I married disappeared into this other person," Ms. Roeder, shaken and puffy eyed, said of Mr. Roeder, from the home she shared with him in Overland Park, Kan., near Kansas City.

"He wanted a scapegoat," Ms. Roeder said. "First it was taxes — he stopped paying. Then he turned to the church and got involved in anti-abortion."
It seems a pretty typical story for these sorts of individuals, the details of his life have a depressingly familiar ring to them. In the 1990s Republican politicians seized upon and exploited the anxieties of this group of frustrated working-class failures. With an all too eager media, this demographic group were dubbed "the Angry White Male" and blame for their plight was laid, not at the doorsteps of preceding Republican presidential administrations that had exacerbated a tendency of massive inequality of wealth distribution favoring the top five percent of the nation, but instead on minorities, on the Federal government, on taxes and on the very business regulations that sought to protect the environment, economic competition, and safe working conditions for the otherwise vulnerable employees of private companies.
And so it was that a cottage industry of venomous vilification of progressive ideas and causes took hold of America's AM radio dial. The political Left, we were told, were those who were truly responsible for the dire economic circumtsances of ordinary Americans who found it nearly impossible to raise a family on meager salaries and with little public support for health care, child care, housing, public transportation and the like. Instead the blame fell on undeserving minorities who took jobs that should have gone to more qualified white men. The blame fell on liberals who had crippled the economy by insisting that businesses observe minimal standards of pay, non-discrimination, and environmental stewardship. The blame fell on women and feminists in particular who, in the words of Pat Robertson comprise a "…socialist, anti-family political movement that encourages women to leave their husbands, kill their children, practice witchcraft, destroy capitalism, and become lesbians."
Seeing the potential to exploit these people, their failures and insecurities for political and financial gain, the Right seized on their anger and channeled it in hateful and sometimes vicious directions.
The results were seen in Oklahoma City on April 19, 1995. They were seen in the recent murders of Unitarian churchgoers in Tennesse by a man who idolized hate mongers Sean Hannity and Bill O'Reilly. And it is seen again here, in the murder of Dr. George R. Tiller, by a psycopathic loser, a conspiracy theorist and right-wing militia enthusiast.
Add a Comment
Please
log in
to post a comment