Last Train to Covington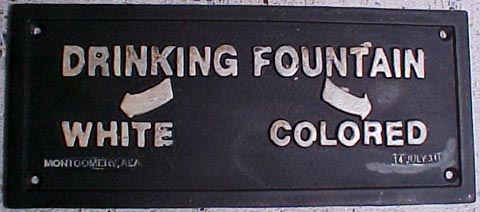 On June 7, 1892, Homer Plessy bought a first-class ticket for Covington on the East Louisiana Railway, and found himself a seat. That night, he found himself in jail.
Plessy, seven-eighths Caucasian by the standards of the day, had boarded a Whites-only coach. The keen-eyed conductor, empowered by an 1890 state law, asked Plessy to move to a Colored coach on the same train. When Plessy refused, the New Orleans police were called in to haul him away.
Violating the law carried a $25 fine or twenty days in jail.
The case we know as Plessy v. Ferguson reached the Supreme Court in 1896. Justice Henry Billings Brown, writing for the 7-1 majority, argued that the still-fresh 13th and 14th Amendments — one abolishing slavery, the other guaranteeing all citizens "the equal protection of the laws" — had no bearing on the matter at hand:
A statute which implies merely a legal distinction between the white and colored races — a distinction which is founded in the color of the two races, and which must always exist so long as white men are distinguished from the other race by color — has no tendency to destroy the legal equality of the two races…
After all, the same engine was pulling both coaches, and all passengers would reach Covington at the same time. No harm, no foul.
But Justice John Marshall Harlan — himself a former slaveholder — called out the underlying issue in his dissent:
Every one knows that the statute in question had its origin in the purpose, not so much to exclude white persons from railroad cars occupied by blacks, as to exclude colored people from coaches occupied by or assigned to white persons…

Our constitution is color-blind, and neither knows nor tolerates classes among citizens. In respect of civil rights, all citizens are equal before the law.
The doctrine of "separate but equal" would remain the law of the land until 1954, when it was overturned by Brown v. Board of Education. At least in 49 states. In California, the state Supreme Court reaffirmed the principle Tuesday:
Here the new constitutional provision [Prop 8] provides in full: "Only marriage between a man and a woman is valid or recognized in California." By its terms, the new provision refers only to "marriage" and does not address the right to establish an officially recognized family relationship, which may bear a name or designation other than "marriage."
Hey, you still get to shack up with the blessing of the state — you just can't use the M-word. What's wrong with that?
Just one thing: Either citizens of our great Republic are equal before the law, or they are not. In California, we now know the answer.
Prop 8 decision (pdf) [California Supreme Court]
Add a Comment
Please
log in
to post a comment