Night at the Nuthouse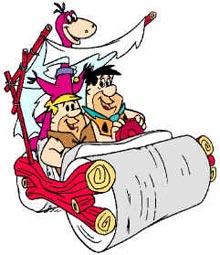 One of the fond memories of our increasingly distant youth is of lovable reactionaries, folks so beyond the pale that they were barely worth a warm head-shaking Paul Harvey chuckle.
And either we're regressing, or those days are returning.
We've often expressed our gratitude for WorldNetDaily, which boldly goes where Drudge fears to tread, and spares us the trouble of cruising dozens of wingnut websites. But lately we've noticed they've been letting us down, with hysterical stories not even remotely relevant to the issues of the day. (Trust us, Joe, the Fairness Doctrine is a non-starter.) It's hard to play fearmonger when the nation is increasingly confident about itself.
What's more, we think they know it. Thursday's story about the recent discovery of dinosaur blood does a very credible job explaining the science underlying the claim, right down to the amino acids.
It's only at the end that they remember to tack on a boilerplate objection to the entire effort, without even bothering to source their quote:
Young earth proponents see something entirely different in the findings. As one creationist noted: "There's no way this blood could be 80 million years old. The evolutionists are just saying so because they cannot bear the thought of recent dinosaurs causing their millions of years scenario to come crashing down. Without the millions of years, Darwinism is dead, dead, dead."
Heh-heh-heh. Page 2.
Add a Comment
Please
log in
to post a comment