The Obama Honeymoon is Over (and I didn't even get a cuddle out of it)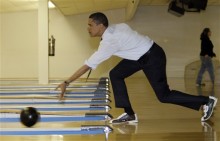 According to Howard Fineman, the end has come for Obama's wonderful honeymoon with America , during which everybody complacently let him do what he wanted, as long as he kept stimulating our parts with his beautiful unicorn horn, which was oh so much softer than we expected – due to his gentle touch – but still firm and penetrating when we needed it to be.
Anyway, as Obama was going out of his way to meet with Congressional Republicans about the stimulus package and be a cool dude about all this, Fineman was (correctly) claiming that Obama's bipartisan support is failing.

I have been struck so far by the LACK of bipartisan goodwill on both sides. It's only a week into the Obama presidency and things quickly seem to be degenerating into the same old, same old spats and thrusts.
Most of my relationships also end with the "same old spats and thrusts," In most cases I'd recommend fixing this with passive-aggressiveness and hate fucking, but I can't see this working on John Boehner.  Fineman has no suggestions.  And I don't think there really are any.
Of course Republicans are going to end the honeymoon and vote against this stuff.  When the 2010 election comes around the economy may be a little better, but I don't think it will be fantastic by any stretch.  The economic causes and effects of such a complex stimulus package will be difficult to attribute, especially when discussed in front of the average moron voter.  So, Republicans can freely vote against the bill.  Democrats can try to claim victory for whatever murky economic impact the package has, but Republicans can just turn around and point to the easily understandable number that is our now-massive deficit.   So, while they get to act like a pack of assholes this week, they'll be able to look fiscally responsible in a couple of years, when the most visible impact of the stimulus package is to the budget.
This guy thinks that if Obama had spent longer in the Senate, he'd have the skills to get it done right.  Using the popular argumentative strategy of finding one example to support his claims, he cites Lyndon Johnson as an experience legislator who got things done as President.  Of course, Gerald Ford spent 24 years in the House, and didn't accomplish shit.   Fineman correctly attributes part of the honeymoon's cessation to the fact that Obama has really already been President for three months, so Republicans are already tired of him, but he also thinks bipartisanship failed because  of the Obama team's  "lack of imagination and shrewd strategy" and "lack of focus"  I think it's just ideology, douchebaggery, and electoral politics, same as its always been.
Is it true? Did Obama's honeymoon end before it had a chance to begin? [No Quarter]
Add a Comment
Please
log in
to post a comment