Bad Law Professor of the Week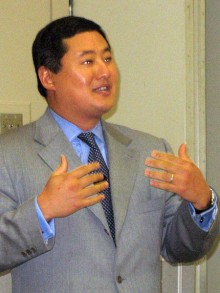 You knew I'd get around to him sooner or later.
Inexplicably, John Choon Yoo is still a professor of law at the University of California at Berkeley. He got his undergrad degree at Harvard and his JD at Yale.  After law school he clerked for Judge Laurence H. Silberman of the U.S. Court of Appeals of the D.C. Circuit.  Later he went on to clerk for "Justice" Clarence Thomas. I am familiar with the work of both judges – rest assured that they are both right wing nutjobs who, in a just world, would be restocking vending machines or collecting bull semen.
Professsor Yoo really came into his own in 2001,  when he went to the Justice Department as deputy assistant attorney general in the Office of Legal Counsel. Among other things, he worked on "separation of powers" issues.  And as we all know, he concluded that "unitary executive" Preznit Bunnypants didn't have to obey international law or pretty much any law he didn't like. This opened the door for loyal Bushies to engage in extraordinary rendition, indefinite detention, and torture.  Especially torture.
Yoo's fondness for torture was expressed in various memos that gave the Bush administration legal cover to do pretty much anything it wanted to do. Remember this?
The victim must experience intense pain or suffering of the kind that is equivalent to the pain that would be associated with serious physical injury so severe that death, organ failure or permanent damage resulting in a loss of significant body functions will likely result.
Ah, the good old days, when Dick Cheney could torture Pakistani cabdrivers with abandon and Donald Rumsfeld was riding high.  But now President Obama has rejected torture.  And Professor Yoo, predictably, believes this action portends the end of the republic:
John Yoo, infamous author of the Bush administration legal memos authorizing the use of torture on suspected terrorists, slams President Obama for banning torture in a Wall Street Journal op-ed today, gravely warning that Obama "may have opened the door to further terrorist acts on U.S. soil."
So if we don't torture detainees they're more likely to turn to terrorism?  Really? The geniuses they get to write for the WSJ editorial page!
Yoo then proceeds to shake his bloodstained finger at our new president:
Eliminating the Bush system will mean that we will get no more information from captured al Qaeda terrorists. Every prisoner will have the right to a lawyer (which they will surely demand), the right to remain silent, and the right to a speedy trial. […]

Relying on the civilian justice system not only robs us of the most effective intelligence tool to avert future attacks, it provides an opportunity for our enemies to obtain intelligence on us.
Yeah – a shame if we can't hold them for five years or so before we try them.
Then he starts to make shit up:
The CIA must now conduct interrogations according to the rules of the Army Field Manual, which prohibits coercive techniques, threats and promises, and the good-cop bad-cop routines used in police stations throughout America. … His new order amounts to requiring — on penalty of prosecution — that CIA interrogators be polite.
Um … no.  Wrong again John.
So there you have it – another authoritarian asshole who should not be shaping the minds of lawyers.  Or anyone, for that matter.
Add a Comment
Please
log in
to post a comment