Black Muslim Democrat President: State of Emergency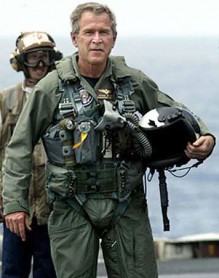 George W. Bush is still nominally the President for a few more days, and he is going to use his Presidential Powers to Mission Accomplish Barack Obama through a successful inauguration. The inauguration is happening, as it usually does, in Washington D.C..   Because Washington D.C. is full of poor black liberals and rich white gay liberals (just like New Orleans!), because it will be even fuller of poor and rich, black and white gay liberals during the inauguration, and because the inauguration means that George Bush will no longer be able to Accomplish Missions (except in regards to successfully filling his Presidential Library with 10000 copies of My Pet Goat), Bush is declaring a State of Emergency during the U.S. inauguration. Or it's because he's just helping out the city with some money. Either way, let the fun times begin!

According to the New York Times:
. . .it was a bureaucratic move intended to provide additional federal money to help the District of Columbia cope with the massive crowds that are expected to turn out for the swearing-in ceremony on Jan. 20 that will make Mr. Obama the nation's first black president.
It looks like Bush is trying to ease the inauguration process for his democratic successor. Either:
1: He is as star-addled and concupiscent over the prospect of a Barack Obama presidency as the next person. The State of Emergency is in his pants.
2: He is so tired of being Presidency that he wants to ensure the inauguration goes off without a hitch so he can get the fuck back to Dallas.
3: Once the State of Emergency goes into effect, it will be easy for Bush to suspend the Constitution, declare himself President for Life, and send in the jackbooted thugs.
4. He is under the impression that the concentration of so many black and gay liberals in one place will summon the Wrath of God (just like New Orleans!); the jackbooted thugs will be there to protect Rick Warren.
Bush Declares State of Emergency for Inauguration [The New York Times]
Add a Comment
Please
log in
to post a comment