The Stupid. It Burns.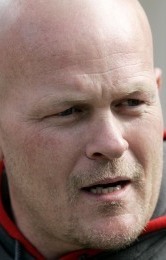 "Joe" the "Plumber":
I'll be honest with you. I don't think journalists should be anywhere allowed war. I mean, you guys report where our troops are at. You report what's happening day to day. You make a big deal out of it. I think it's asinine. You know, I liked back in World War I and World War II when you'd go to the theater and you'd see your troops on, you know, the screen and everyone would be real excited and happy for'em. Now everyone's got an opinion and wants to downer–and down soldiers. You know, American soldiers or Israeli soldiers.
Reminds me of Michelle Bachman.
I think media should be abolished from, uh, you know, reporting. You know, war is hell. And if you're gonna sit there and say, "Well look at this atrocity," well you don't know the whole story behind it half the time, so I think the media should have no business in it.
Did you know that Joe the Plumber made the Beast's list of the 50 most loathsome people in America?  He's number 20:
Charges: The Che Guevara of bald, pissed off white men. In a lot of ways, Samuel Wurzelbacher really does represent the average American—basing economic opinions on unrealistic expectations of personal future success, blaming his failure to meet those expectations on minorities and old people, complaining about deadbeats getting his taxes when he isn't actually paying his taxes, and advertising his own rudimentary historical and mathematical ignorance by warning of creeping socialism in a country whose highest income tax rate has dropped by half in thirty years. "Joe" indeed symbolizes the true American dream—to become undeservedly rich and famous through a dizzyingly improbable stroke of luck. As American folk heroes go, Wurzelbacher ranks somewhere between Hulk Hogan and Bernie Goetz.

Exhibit A: "Social Security is a joke…social security I've never believed in, don't like it. I hate that it's forced on me."

Sentence: After blowing his fifteen minutes and all his money on coke and Thai hookers, an infirm, elderly Joe finds that social security actually is a joke, and is finally forced to snake toilets for a living.
As Atrios points out – Joe doesn't piss liberals off. On the contrary, we just like to laugh at him.
Add a Comment
Please
log in
to post a comment