And I Am Telling On You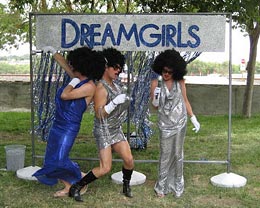 The California Arts Administrator Conspiracy widens: Richard Raddon, director of Los Angeles Film Festival, resigned over the weekend after it was discovered he had donated $1,500 to Prop 8.
This ain't no California Musical Theatre: the festival is sponsored by Film Independent, which also sponsors the Independent Spirit awards. Film Independent board members include Don Cheadle and Forest Whitaker.
Oh, and Dreamgirls director Bill Condon. "I'm personally saddened by the outcome," he says. "Someone has lost his job and possibly his livelihood because of privately held religious beliefs."
No. Nobody gives a shit that Raddon is a Mormon. The issue is that he made a substantial financial contribution towards depriving California citizens of their human rights. Save the Blacklist whine for Fox News.
Image: David Goldsmith, AIDS/LifeCycle 2007
Add a Comment
Please
log in
to post a comment