The Agony of the Ecstasy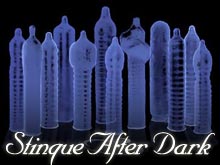 The UK Literary Review's annual "Bad Sex in Fiction" finalists have been announced, but unfortunately nobody's posting excerpts yet. (Shout-out to John Updike for Rabbit is Flaccid The Widows of Eastwick, however.) So we'll just have to make do with horny moments from last year's finalists. Because while good sex may last all night, bad sex is forever.
Jeanette Winterson, The Stone Gods: I start to slip off my jeans and I feel her gaze as I stand in my bra and pants. Why am I embarrassed about taking off my clothes right in front of a robot?
Richard Milward, Apples: She had on no knickers, and my heart went crash-bang-wallop and my eyes popped out. She hadn't shaved, and her fanny looked like a tropical fish or a bit of old carpet.
David Thewlis, The Late Hector Kipling: "Ooowwww!" Oh shit, my nipple's on fire. She's poured lighter fluid onto my chest and my tit's gone up in flames like some dessert in a posh restaurant.
Gary Shteyngart, Absurdistan: I find it clichéd when couples insist that they have "the perfect fit," but between the busted-up, zigzag, Broadway boogie-woogie of my maligned purple khui and the all-encompassing nature of her Caspian pizda, we reached a third way, as it were.
Christopher Rush, Will: O glorious pubes! The ultimate triangle, whose angles delve to hell but point to paradise. Let me sing the black banner, the blackbird's wing, the chink, the cleft, the keyhole in the door. The fig, the fanny, the cranny, the quim — I'd come close to it now, this sudden blush, this ancient avenue, the end of all odysseys and epic aim of life, pulling at my prick now, pulling like a lodestone.
Clare Clark, The Nature of Monsters: I held my breath. In the explosion I lost sight of myself. I was a million brilliant fragments, the darkness of my belly alive with stars. When at last I opened my eyes to look at him, my lashes shone with tears. He raised a finger to his lips and smiled.
Ali Smith, Boy Meets Girl: I was hard all right, and then I was sinew, I was a snake, I changed stone to snake in three simple moves, stoke stake snake, then I was a tree whose branches were all budded knots, and what were those felty buds, were they antlers? were antlers really growing out of both of us? was my whole front furring over? and were we the same pelt? were our hands black shining hoofs? were we kicking? were we bitten?
And the 2007 winner…
Norman Mailer, The Castle in the Forest: Uncle was now as soft as a coil of excrement. She sucked on him nonetheless with an avidity that could come only from the Evil One — that she knew. From there, the impulse had come. So now they both had their heads at the wrong end, and the Evil One was there. He had never been so close before.
Bad Sex Award 2007 shortlisted passages [Guardian UK]
Add a Comment
Please
log in
to post a comment