This Candidate Will Self-Destruct in 90 Minutes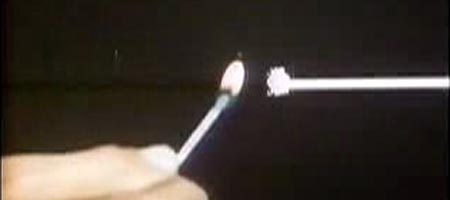 We can only hope. After John McCain failed to blow his head off last time, we despaired that we'd ever get to see the Bruckheimer-quality conflagration we paid good money on beer to watch. But coming off a weekend calling Barry a terrorist and a liar and a bad tipper, we expect the Psychogeezer to show us the Right Stuff that destroyed three jets.
And so we open tonight's Live Blog/Open Thread/Snuff Film with the anticipation that we'll be witnessing history, finally putting to rest Richard Nixon's 48-year record as America's Sweathog. Whatever your drinking game, make sure you save a bottle for the post-meltdown celebration.
Showtime!
9:03. Barry and McCain hug, frisk each other for concealed weapons.
9:05. Pyramid Hefeweizen. "Refreshingly Unfiltered." Unlike most of the answers tonight.
9:08. Tonight's Hail Mary: I will save America by buying it.
9:10. Firesign Theatre: "Take your television's advice. And y'know more TV's recommend an amazing new psychic breakthrough than any other, and that's… Confidence in the System. Fast, safe, and guaranteed through constant Federal control, Confidence in the System will keep THEM in power longer, longer, longer, and tend to calm and obscure the miseries of disillusionment and despair. In easy-to-swallow Propaganda form or new fast-acting Thought Control, that's Confidence in the System. So have some… today."
9:16. Barry uses "impact" as a verb. But we knew in advance he wasn't a perfect candidate.
9:19. Speaking of letters, Barry wrote this one to Bernanke and Paulson back in March 2007: "We cannot sit on the sidelines while increasing numbers of American families face the risk of losing their homes…" Like we say, Sully's good for something.
9:26. Barry: "You're paying $3.80 here in Nashville for gasoline." Backstage, high fives between the advance guys.
9:29. Earmarks? $18 billion out of a $3 trillion budget. Can't even buy a minor bailout with that kind of change these days.
9:34. Barry cites the earmarks number. He must have heard us shouting at the TV.
9:37. Tom Brokaw cuts Barry off from responding to McCain's budget bullet points. Tom Brokaw, you're no John Chancellor.
9:42. McCain: "Have the smartest people in America come together." You mean… ELITES?
9:45. In our imaginary debate, Lewis Black is moderating. We feel better now.
9:58. Um, Barry, yeah, Delaware does have "loose" credit-card laws, but your running-mate might have a few thoughts on that.
10:07. McCain on military intervention: "That requires a cool hand at the tiller." Yes, he said that. Oops, gotta catch a helicopter!
10:12. Did McCain just say Tollybon? Is there no trend Barry doesn't start?
10:14. Once again, 75 minutes in, Barry lets the bait out. "Bomb bomb bomb Iran?" We want that follow-up.
10:16. McCain: "I'm going to act responsibly as I've acted throughout my military career." C'mon, dude, that's too easy.
10:24. Brokaw: "This question requires only a Yes or No answer." No it doesn't. The question whether Russia is evil requires an explanation. One example why Brokaw sucks.
10:34. And to close, my friends, FlyingChainSaw: "Obama needs to rip this piece of shit's arms off and beat him to death with the wet ends. He is letting the Psychogeezer and his toy go too easy. He needs to piss in Psychogeezer's face and make him cry."
Thank you and good night.
Add a Comment
Please
log in
to post a comment