America Gets a Woody for Barry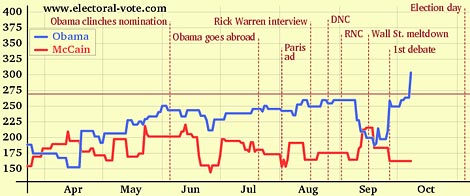 Ho-lee shit. The electoral-vote chart we've been following for months just spiked. This is the chart that averages state polls over the past week, and only counts those where either candidate leads by at least 5 percent.
The strong states, not the close races.
This is the chart that has shown steadily growing support for Obama, steadily weakening support for McCain, and the Palin Pothole. We figured the blue line would hover just below that 270-vote threshhold for awhile, just as it's mostly done since before the conventions. We didn't expect the cork to pop.
Caution, four weeks, ugliness, Iran bombing, blah blah blah. Oh, fuck it — WHEEEEEEE!!!
Add a Comment
Please
log in
to post a comment