Bad Law Professor of the Week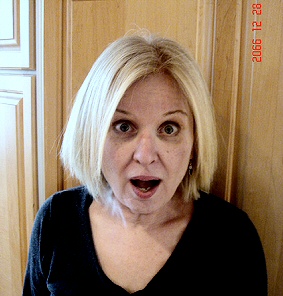 Today we deal with Ann Althouse.  She is the Robert W. & Irma M. Arthur-Bascom Professor at the University of Wisconsin Law School, whatever that is.  She teaches conlaw, federal jurisdiction, and civil procedure. She is, so help me, tenured. Her schtick is that she's nonpartisan – a total crock given her Bush cheerleading and guest-blogging for that noted nonpartisan Glenn Reynolds.
Althouse is also a deeply silly person. Lefty bloggers love her mainly because she will write about any stupid shit that pops into her head:
As to the zoo, I do think people roam about looking for animals to identify with. No one stares at the camels. There's always a crowd gazing into the eyes of the chimpanzee. It is far more interesting to watch the people as they watch the animals or to watch the animals and think of people.
What?  Even if those observations are accurate, why write them down? This A.E. Housman quote could not be more apt: "Nature not content with denying [her] the ability to think, has endowed [her] with the ability to write."
After the jump, check out the professor's take on Hillary Clinton's homage to The Sopranos:
Bill says "No onion rings?" and Hillary responds "I'm looking out for ya." Now, the script says onion rings, because that's what the Sopranos were eating in that final scene, but I doubt if any blogger will disagree with my assertion that, coming from Bill Clinton, the "O" of an onion ring is a vagina symbol. Hillary says no to that, driving the symbolism home. She's "looking out" all right, vigilant over her husband, denying him the sustenance he craves. What does she have for him? Carrot sticks! The one closest to the camera has a rather disgusting greasy sheen to it. Here, Bill, in retaliation for all of your excessive "O" consumption, you may have a large bowl of phallic symbols! When we hear him say "No onion rings?," the camera is on her, and Bill is off-screen, but at the bottom of the screen we see the carrot/phallus he's holding toward her. Oh, yes, I know that Hillary supplying carrots is supposed to remind that Hillary will provide us with health care, that she's "looking out for" us, but come on, they're carrots! Everyone knows carrots are phallic symbols. But they're cut up into little carrot sticks, you say? Just listen to yourself! I'm not going to point out everything.
Aren't you glad she's not teaching psychology?  And check out this little nonpartisan rant:
It was a dark and stormy morning. Are humans to blame? Or are the gods angry that all the world is bowing down today to Al Gore and his theory that the humans cause the storms?
Althouse also started one of the blogosphere's stupidest controversies – The Jessica and Bill Breast-Awareness Kerfuffle.  Here's the photo that caused Althouse to go apeshit:
When confronted with her absurd conclusion – that the editor of Feministe purposely dangled her rack in front of Big Dog – Althouse performs a Reverse Malkin that even the Anchor Baby would envy.  
Althouse is also an expert drunkvlogger, is scared by cell phones, and remains obsessed with Bill Clinton's dick.
Is this a person we want shaping young legal minds?  Oy.
Add a Comment
Please
log in
to post a comment