One Black. One White. One Bottle.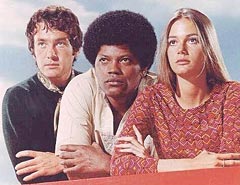 What? Katie's not doing this one? Shit. Well, fuck it, nothing else the past month has made sense anyway, so why start now?
So imagine Jim Lehrer with a wig, and let's get started with the 2008 Presidential Debate Liveblog/Open Thread/Drinking Game. We understand that "My Friends" is the preferred cue, although honestly we don't know if there's enough beer in the fridge to manage ninety minutes of that, especially since the Geezer likes to throw in at least two per sentence.
Okay: If he does two "My Friends" per clause, bottoms up.
Even then we might lose hand-eye coordination early, so maybe we'll just skip the liveblog entirely and play in the open thread. That's where the cool kids hang out.
Later that night…
8:50. So we turn on the TV and there's a guy in a frog suit. Looks about right.
8:55. Tweety: Barry needs to be more Sidney Poitier, less Malcolm X, or else he'll frighten the suburbs.
8:58. Mmmmmm! Black Butte Porter!
9:02. Jim Lehrer: Give now, give generously, or we'll take Masterpiece Theater away from you.
9:05. Barry acts like he knows what he's talking about. Americans won't stand for competence.
9:06. Guests at the door! We'll work the room in the comments for awhile.
9:08. John McCain Threat Level: Green. Hang tight, we've still got eighty minutes for him to blow up.
9:10. Geezer namechecks "David" Eisenhower. In our half-century of mortal existence, we've never heard that. But if we were named Dwight, we'd go there too.
9:13. Lehrer: You two need to talk to each other. For the sake of the children.
9:15. Geezer: Republicans are crackheads who can't resist sacks of money earmarks.
9.18. McCain Threat Level: Yellow. Geezer's warming up.
9:21. "Pork barrel spending" is the new "My friends."
9:29: McCain opposes ethanol subsidies. ADM calls their lobbyist army.
9:32. I'm Google for Government! Google for Government! (Part of this nutricious budget.)
9:34. Geezer namechecks Hillbot. What took him so long?
9:37. Geezer: Surely we can find $700 billion under the couch cushions.
9:38. We're losing track. Geezer supports veterans. He opposes torture. The American memory lasts five minutes.
9:45. Barry to Geezer: "You were wrong. You were wrong. You were wrong." Threat level orange? We're trying to be conservative.
9:52. Is it us, or does Lehrer keep throwing the first question to Barry?
9:53. Ike, Coburn, George Schulz — whole lotta Establishment namechecking going on.
9:55. Geezer: Without General Petraeus, Life Itself Would Be Impossible.
9:59. Here comes the Bracelet line. Will Barry parry?
10:00. Barry parries! (We read about his bracelet in the New Yorker. He usually doesn't talk about it.)
10:04. Geezer: "The Iranians have a lousy government. Therefore their economy is lousy." Bloggers, start your engines!
10:13. McCain — in a single sentence — advocates and opposes meeting with foreign enemies "without precondition." Parse that, epistemologists!
10:15. THREAT LEVEL ORANGE. THREAT LEVEL ORANGE.
10:26. Oh, fucking great. Lehrer promised he wouldn't ask gotcha questions. What are the chances of another 9/11? Seems 9/15 created a much deeper hole.
10:27. Geezer: I was against torture before I was for it before I was against it again.
10:31. Did you know Barry is naive? It's true! Geezer says so!
10:35. Geezer: "I don't need any on-the-job training." Bloggers? Second post!
10:37. And… scene! How about a big sloppy wet one, fellas?
Add a Comment
Please
log in
to post a comment