We're Not the Only One Out to Lunch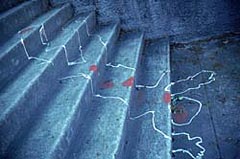 We've been highly distracted with geek chores the past couple of days, and we're discovering that trying to catch up with the Financial End Times is like missing an episode of a primetime serial — we have no idea how that polar bear got there, but we imagine it'll make sense eventually.
So pardon us while we attempt to wrap our exhausted mind around this:
Former House Speaker Newt Gingrich (R-Ga.) warned his former colleagues that they would pay a price in November for backing the bailout now — and that John McCain could ride to victory over Barack Obama by persuading voters that the bailout is really the "Obama-Bush plan."
Now step back from this a moment and consider: It's understandable that they want to run away from an unpopular president, and the Republican convention was the equivalent of outlaws trying to switch their black cowboy hats to white — but this is the first suggestion we've seen of throwing Dubya under the bus.
We're tempted to agree with Newt, just to see the attack ads — a Rovian snake swallowing its tail.
Add a Comment
Please
log in
to post a comment