Let Them Eat Crow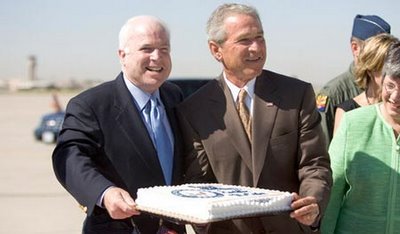 Back before they weren't talking to each other, Shrub and Geezer shared a warm moment on the tarmac at Arizona's Luke Air Force Base. The occasion was Geezer's 69th birthday (how young he looked then!), and about an hour later Shrub was chatting up the crowd at the Pueblo El Mirage RV Resort and Country Club.
Twelve minutes before Shrub began his remarks, CNN posted the day's Gulf Coast forecast:
Flooding from Hurricane Katrina's Monday landfall could wreak catastrophe on New Orleans, overwhelming the city's water and sewage systems and leaving survivors in a bowl of toxic soup, a top hurricane expert said.
It was Monday of Katrina Week — August 29, 2005. We wouldn't learn of the flooding until Tuesday, but it was Sunday that we learned the definition of "contraflow" as we watched nonstop live coverage of the mandatory evacuation of a major American city.
"It just wouldn't be appropriate to have a festive occasion while a near tragedy or a terrible challenge is presented in the form of a natural disaster," McCain said as he sliced the cake.
Hold on, our producer's screaming something in our earpiece — oh, McCain said that this time, about possibly canceling the Republican convention. Please accept our correction and apology.
To be fair, McCain wasn't the Decider in 2005, and as a senator he has since "supported every investigation and ways of finding out what caused the tragedy."
Wait, damn producer again — okay, he voted against an independent Katrina commission. Twice.
Add a Comment
Please
log in
to post a comment