Pity Party!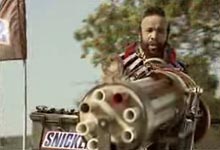 On the lighter side of public shootings comes this Snickers ad from the U.K. featuring Mr. T that was yanked by Mars last week after the Human Rights Campaign complained that it was:
a) Violent.
b) Homophobic.
c) Much funnier than the crap they run in the U.S.
Answer below!
The answer is B. Chocolate-spewing Gatling guns are apparently an acceptable marketing tool.
But honestly? We're just pissed that Mars doesn't have the balls to use "Get Some Nuts" stateside.
Add a Comment
Please
log in
to post a comment