Rachael Ray, Islamofascist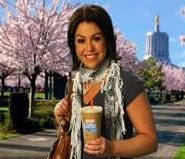 Another notch for Michelle Malkin:
Dunkin' Donuts has pulled an online advertisement featuring Rachael Ray after complaints that a fringed black-and-white scarf that the celebrity chef wore in the ad offers symbolic support for Muslim extremism and terrorism.

The coffee and baked goods chain said the ad that began appearing online May 7 was pulled over the past weekend because "the possibility of misperception detracted from its original intention to promote our iced coffee."

In the spot, Ray holds an iced coffee while standing in front of trees with pink blossoms.

Critics, including conservative commentator Michelle Malkin, complained that the scarf wrapped around her looked like a kaffiyeh, the traditional Arab headdress.
And that's what happens when you cross Starbucks. Do not make fun of their coffee names.
Add a Comment
Please
log in
to post a comment