Bedtime Stories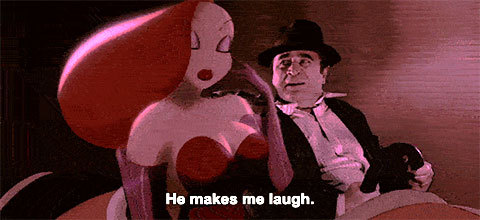 Years ago, back when we were in grad school, studying Kant and Descartes and Aristotle and Plato, a friend of ours had an interesting remark:
A philosophy of comedy needs to be funny.
What was interesting about his remark, besides its cleverness, was what he was getting at: The essence of something needs to be what it is. If you're getting at the essence of comedy, what it's about, how it works — which is what you do in philosophy, and why philosophers get laid so hard — your understanding of it needs to be funny itself. Which is the classic problem with explaining a joke: There are the ingredients, but where's the soufflé?
That's what a joke is: a soufflé. It blossoms quickly, and wilts even faster. It's dead long before you even try to explain it. Jokes get old. You can't tell the same joke twice.
A philosophy of comedy would also need to get at that: Not just how a joke is funny, but how it's only funny once. It's there, it's gone, it's never coming back. Once you get a joke, you have it. You don't need to get it again. The pleasure of a joke is in the moment of understanding. You can enjoy watching a comedy twice, find other pleasures you missed the first time, but you'll never repeat the pleasure of that first pop, the pop of getting it, the laughter of that pop of recognition.
People who try to explain comedy miss that. It's not about the joke, it's about the pop. It's not about the comedian. It's about the audience. It's about the moment.
We have other moments like that in our lives, many other moments. Our lives are filled with those moments. Our lives are about those moments. There's a first time for everything! It feels like the first time!
Philosophers don't think about the first time enough, the moment of it, the experience of the dawning of awareness, the pleasure of discovering something new that you hadn't noticed before. Maybe they would if they weren't getting laid so hard. Maybe if philosophers weren't so preoccupied with the endurance of their impossibly long orgasms, they'd realize they're not just having an orgasm. Someone gave it to them. Someone understood the conditions necessary to experience the infinite bliss of mortal existence, and provided them.
Deliberately.
Knowing what they were doing.
And doing it.
There are only two things that make your body shake like that, shake uncontrollably with the wholeness of your being. Lovers know how to create the conditions for one of them. Comedians know how to get you there with the other.
Which is why philosophers may get laid like you wouldn't believe, but comedians get crazy laid.
And so our friend was wrong about the requirements of a philosophy of comedy. It doesn't need to be funny. It just needs to get you laid.
Add a Comment
Please
log in
to post a comment