Witch Hunt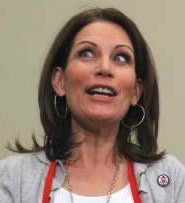 How can people keep sending this idiot to Congress?
Rep. Michele Bachmann defended her attempt to root out "deep penetration" by the Muslim Brotherhood into the U.S. government Friday, writing a 16-page letter explaining and expanding on her initial charges against Huma Abedin and others of being terrorist sympathizers. Bachmann's letter came in response to a challenge from a fellow Minnesota lawmaker, Rep. Keith Ellison, a Democrat who was the first Muslim elected to Congress. Ellison last week asked Bachmann for evidence to support a series of letters the Republican sent to five national security agencies demanding investigations into alleged Muslim Brotherhood infiltration in their ranks.
If she was in the British Parliament she'd be out at the next election.
Add a Comment
Please
log in
to post a comment