Fred Karger Gets Some.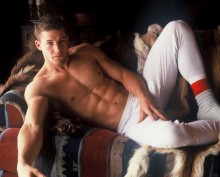 Fred Karger, quixotic gay Republican presidential challenger, recently visited Utah to try to convince local GOPers not to be such complete assholes. In the course of his outreach he handed out frisbees and other gay accoutrements.
This did not sit well with at least one wife who was not about to let her husband find out whether he preferred to pitch or catch.
Nanette Billings, irate wife of Dan, instantly figured out what has baffled the rest of the country since Mr. Karger threw launched his campaign: why was he running? Nanette told local news teams it was all about getting the candidate laid.
Reached on the campaign trail, Brad, personal trainer and head of Mr. Karger's Mormon outreach, denied that the candidate was in Utah only to tap some ass, and even if he was it wouldn't be Mr. Billings's.
Add a Comment
Please
log in
to post a comment