Tweeting Dick Photos Seems So Quaint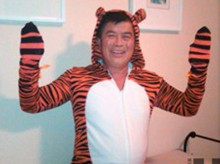 Oregon Congressman David Wu (D), already under fire for behavior that one could generously describe as "erratic," is now in a smoking pile of dog shit.  The Portland Oregonian is reporting that earlier this year, the high school aged daughter of one of his friends and campaign donors contacted his office and accused him of sexually assaulting her over Thanksgiving weekend at a family event.  When confronted by his staff, he said it was a consensual sexual encounter.  Sort of like the one in 1976 where he was disciplined by Stanford University for trying to rape his ex-girlfriend?
According to sources, the young woman did not contact police because she felt that there was not enough evidence of an assault, and it was her word against a seven-term Congressman.  Frankly, if I were in the jury, that would make her all the more believable.